What is the New Achievement?
On September 21st, 2022, Governor Kathy Hochul announced over 4 gigawatts of distributed solar projects in New York State. That is enough to power 710,000 homes! In the first half of 2021, when we were all coming out of the pandemic, New York State installed more than 1200 megawatts of capacity—proving again that New York is one of the strongest solar markets in the nation. To date, this was the fastest gigawatt to gigawatt increase for distributed solar, going from 3 gigawatts to 4 gigawatts of solar across the state. Likewise, over $289 million NY-Sun incentives greatly supported the newly distributed solar—which also leveraged $1.5 billion in private investments and decreased the cost of solar in New York by 70%. 
Hochul gave this announcement from the Javits Center, where you can find Manhattan's most substantial single-roof top solar array and battery storage system. Hochul hopes this shows other urban businesses how they can be a part of a sustainable energy future.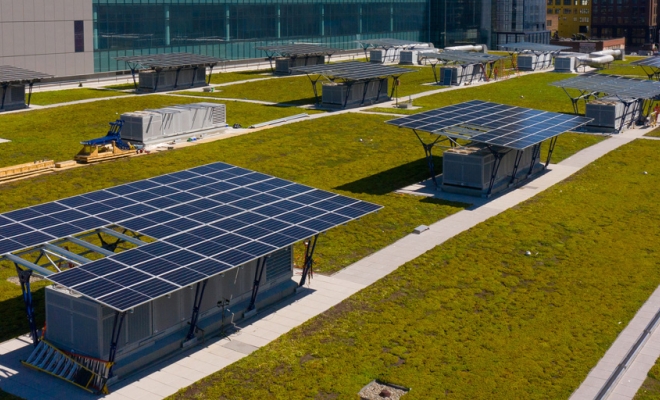 "We are laser-focused on the battle against climate change, and our nation-leading advancement of renewable energy is supercharging New York's economy while creating an equitable and healthier future for all New Yorkers," Hochul said. "This achievement is a testament to our successful partnership with communities and industry alike to get these projects built in every corner of the state and ensures more families and businesses will benefit from clean, affordable solar power for years to come."
New York State's Goal
Similarly, NY-Sun incentives received an award of 3.2 gigawatts of solar. That is enough to power about 560,000 homes! They are currently under development across New York. Such projects anticipate coming online within the next few years. They may be able to power around half a million or more homes. This is an excellent achievement for the state and the solar industry. New York State aims to acquire 10 gigawatts by 2030 and 6 gigawatts by 2025. Predictions show the state's six gigawatts solar goal will generate up to $500 million annually in statewide energy savings. Overall, such accomplishments bring us even closer to reaching that goal! 
Do you want to learn more about the solar industry? Contact Seed today!